Building a County for Every Citizen
The office of Probate Judge and the five County Commission seats will be on the ballot in March 2024. In recent days we have been asked for the salaries of these offices. Under current law, the salary of the Probate Judge is $65,786.18 annually. The County Commission Chair is paid $23,864.02, and each of the other County Commissioners is paid $18,851.74 per year. These officials are eligible for single and family health insurance, as well as life insurance.
---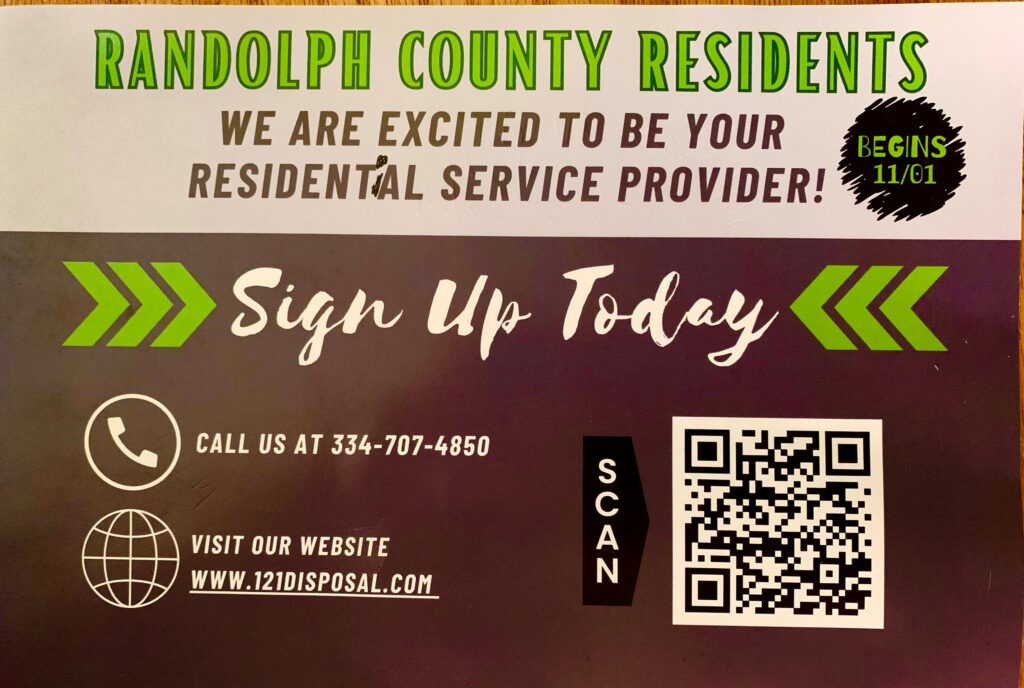 Randolph County's contract with Amwaste expired this fall, and so bids were taken for a new contract for picking up residential trash in the county. The low bidder is 121 Disposal Co. with $81.27 per quarter. Amwaster's bid was $100 per quarter. Other companies were invited to bid, but these were the only two bids received. The Amwaste bills customers are receiving now are prorated because the target date for the switch in companies was Nov. 1.
To sign up with 121 Disposal, please call (334) 707-4850 or visit www.121disposal.com.
The Randolph County Commission has purchased a new emergency alert system called Hyper-Reach that is free to the public to sign up. Please enroll by calling or texting "Alert" to 256-540-8664 or by going to the website http://hyper-reach.com/alrandolphsignup.html.
Facts about Randolph County
Founding Date: Dec. 18, 1832
Area: 585 square miles
Population: 22,479 (2022 Census estimate)
Major Waterways: Tallapoosa River
Major Highways: U.S. 431, Alabama Highways 22, 48 and 77
County Seat: Wedowee
Largest City: Roanoke
Places of interest
Lake Wedowee – more than 270 miles of shoreline
Tallapoosa River and its many tributaries
Talladega National Forest